Work
About
I am an Interactive Media Designer with a MA in Interactive Media from Designskolen Kolding, Denmark.
I have recently finished working on an exhibition at Moesgård Muesum in Århus.
You can find more information about the exhibition at Moesgård Museum's website.
In my work I have dealt with many areas within design and interactive media. My main focus is making abstract concepts coherent and tangible using interactive media.
Here are a few of the areas I have worked with
Exhibitions _ ( Informal Learning Environments )

Intelligent Spaces _ ( Ubiquitous Computing )

Installations

Physical Computing _ ( Wiring, Arduino, Sensors, Basic Electronics )

Programming _ ( Processing, Java, Flash, HTML, PHP, MySQL, Javascript, Max/MSP )

Motion Graphics _ ( Video, 3d, Animation, Maya, After Effects )

Visualisation _ ( Sketching, Photoshop, Illustrator, Indesign )
Short CV

2010 - 2011 - 'The Seven Vikings', Exhibition Design and installations - Moesgård Museum

2009 - Freelance work

2009 - 'Runer fra grafitti til gravskrift'Exhibition Design and installations - Moesgård Museum

2008 - MA, Interaction Design - Designskolen Kolding

2007 - Exchange semester, Interaction Design - Zürcher Hochschule der Künste

2006 - Internship, Bitland Exhibition - Danfoss Universe
Contact
Network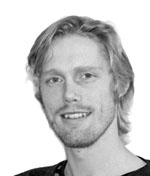 Interactive Media
Claus Bjerre Jacobsen - http://aneks.dk
Mads Mosbæk Pedersen - http://massmedia.dk
Carl Emil Carlsen - http://sixthsensor.dk
Mogge - http://concoctions.dk

Graphic Design and Illustration
Nadja Kothe - http://typovilla.de
Karin Lindeskov Andersen - http://karinlindeskov.com
Tilde Burrows - http://tildeburrows.dk
Anne Sofie Bendtson - http://annesofiebendtson.com
Lea Lerche Klaaborg - http://leaklaaborg.com